Edible Gardens is India's leading voice in the regenerative agriculture and urban farming space. We believe in mimicking Nature's methods first, before seeking any man-made interventions. We have built a strong base in setting up food forests across urban and rural landscapes.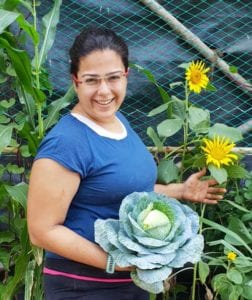 Diipti Jhangiani, the founder and proprietor, is based out of Bombay in India. Her experience in soil regeneration, kitchen and garden composting, farm design and management, training and development spans over 12 years. After working, assisting and volunteering at several farms and community gardens across the country, Diipti setup Edible Gardens in 2017, as a consultancy that specialises in regeneration of degraded soil, afforestation and setting up of food forests across India.
The right understanding of a space is paramount when it comes to designing an edible garden. One has to conduct an in depth study of the space - be it farmland or concrete, soil quality, sunlight, water, contours and so on. At Edible Gardens, we design and rejuvenate green spaces for clients to experience a rich harvest, using sustainable and organic methods and ingredients; such that the costs involved are minimal and the benefits keep compounding over time.
We have trained over 20,000 individuals including school and college students, parent and child, corporate individuals, homemakers and hobby gardeners to set up and maintain their edible gardens. Our informative series and subscription modules have been highly appreciated and valued by all.
If you are a hobby gardener and want to understand how to brew your own soil or you'd like us to conduct workshops for your company or design and manage your farm in the city or in the country, do reach out to us and we'll get you growing.